Community Efforts
Program Overview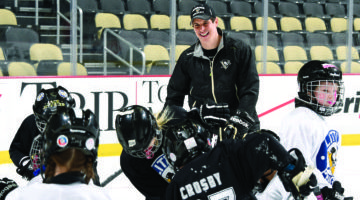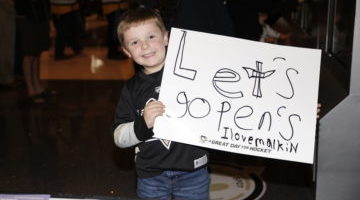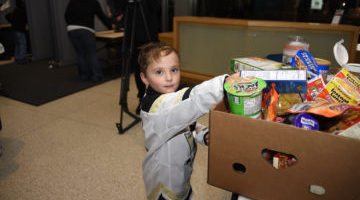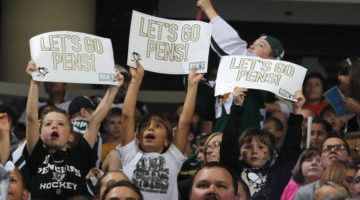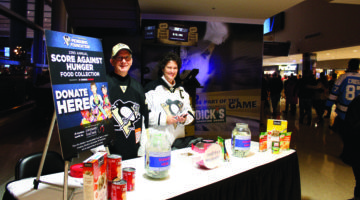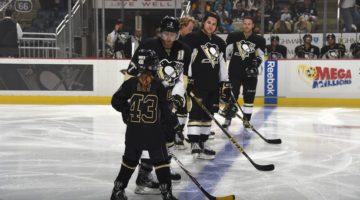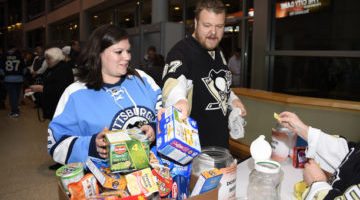 Outside of our most common programs, the Penguins Foundation has a number of additional initiatives to ensure our reach is expanding and in an effort to help those in need.
25+
Charitable organizations have enjoyed Penguins hockey in a luxury suite
Crosby & Malkin Charity Suites
Since 2008, Sidney Crosby and Evgeni Malkin have each purchased a luxury suite for local youth to enjoy the excitement of Penguins hockey. Each season, Crosby and Malkin host different charitable organizations in their suites - each with an emphasis on children who are coping with difficult health issues, economic or family challenges. Suite guests receive a special gift from their host player during the game along with a visit from team mascot Iceburgh.
37,000
Pounds of food collected and donated since 1992
Food Collection
The Penguins annual food drive began in 1992 and has generated more than 37,000 pounds of food and over $35,000. All proceeds benefit the Greater Pittsburgh Community Food Bank.
126,000
Tickets donated to area youth since the 2010-11 season
Free Game For Kids
A team tradition since 2010, the Pittsburgh Penguins Free Game for Kids program gives our youngest fans an opportunity to attend a pre-season game at PPG Paints Arena. Over 18,000 tickets are distributed each season to local children's charities and youth hockey organizations. Since the program's inception through the 2016-17 season, 126,000 tickets have been provided to children and their parents, guardians or chaperones to share in the excitement of Penguins hockey.
$20,000
Dollar amount awarded to 2 student university organizations through Pens4Purpose
Pens4Purpose
Each fall, Pens4Purpose, a social media contest, challenges local colleges and universities to show how they are making a difference in their communities. Launched in 2015, the winning student organizations receive a monetary donation from the Penguins Foundation to gift to the cause that they support.
Your help matters
We could not continue to do the work we do without your support.
Testimonials

"I would just say that Jeffrey and I are extremely grateful for the opportunity provided by the Penguins. To be able to experience a game in a suite with other individuals in the Big Brothers Big Sisters program was so cool and something I'll never forget. I think the ear-to-ear smiles on all the 'littles' spoke to how much they enjoyed the special night."

Big Brother Steve & Little Brother Jeffrey, Big Brothers Big Sisters

Crosby & Malkin Charity Suites