Get in the game for a chance to WIN a Sidney Crosby Autographed Sports Matter Jersey!
Between January 28 and February 4, you could win a Sidney Crosby autographed Sports Matter jersey! Since 2014, The Dick's Sporting Goods Foundation has donated over $66,000,000 to youth sports and in 2021 gave over $20,000,000 to programs across the country. Through these efforts, The Foundation's Sports Matter Program has raised awareness of the importance of youth sports and has helped over 1 million youth athletes across the country.
Pricing:
10 chances for $10
40 chances for $20
150 chances for $50
No donation or payment is necessary to enter or win this sweepstakes.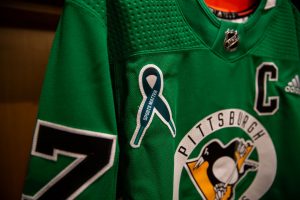 Don't miss your chance to inspire and enable youth participation in sports through this sweepstakes… Buy your ticket today!
All proceeds benefit CAF America, who will then make a grant to the Pittsburgh Penguins Foundation (minus fees described on the "Supplemental Rules" page) to support The DICK'S Sporting Goods Foundation's Sports Matter initiative.
Please Note: The Adidas jersey created for this sweepstakes is unworn.
No Purchase Necessary
Donations made in connection with this sweepstakes are funded to Charities Aid Foundation America ("CAF America"). CAF America is a U.S.-based, IRS-registered, public charity whose mission is to make donating to international and domestic causes streamlined, safe and easy for U.S. donors. CAF America has prequalified the Pittsburgh Penguins Foundation as an eligible recipient of a grant from CAF America. At the end of the campaign, CAF America will make a grant to the Pittsburgh Penguins Foundation as long as such Charity continues to qualify as an eligible recipient of CAF America grants.
Ascend Official Rules: https://www.ascendfs.com/official-rules
Supplemental Rules: https://penguinssweeps.5050central.com/Home/Content/SUPPLEMENTAL-RULES-7