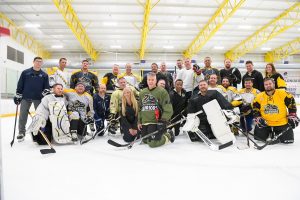 By Cindy Himes
There is no such thing as an off-season at the Pittsburgh Penguins Foundation (PPF)!  As we get deeper into the summer months and temperatures keep rising, one might think that the days slow down a tad at PPF – and they would be wrong!
Just over the past week, we had an array of events that would rival any week during hockey's in-season schedule.
First, on June 24, the PPF staff visited Pittsburgh's Carnegie Science Center for a preview of the new Science of Hockey school assembly program that was created in partnership with PPG and the Pens Foundation.
The show was a huge success as it introduces elementary and middle school students to science through the sport of hockey.  Whether it's understanding Newton's laws of motion or Bernoulli's principle of lift, the show will capture young students' curiosity and hopefully develop an understanding of the many forces behind science.  The Science of Hockey show will officially launch this fall.
Next, on June 26, the PPF attended the Pittsburgh Tigers open skate and scrimmage at RMU Island Sports Center, welcoming new members.  Our staff distributed Penguins memorabilia to attendees in support of Pride Month.  The Pittsburgh Tigers are a local hockey team comprised of members of the LGBTQ+ community and allies.
Also, on June 26, PPF staff attended the Pittsburgh Warriors practice session at RMU Island Sports Center, distributing Penguins gifts and officially presenting a check representing funds raised at the Penguins' Military Appreciation Game presented by 84 Lumber on April 20.  Pittsburgh Warriors Hockey is a 501c3 organization of honorably discharged service members with a service-connected disability who are united around the sport of hockey.
Last; but not least, PPF staff attended the Pittsburgh ICE (Inclusion Creates Equality) golf tournament on June 28 at St. Clair Country Club and a great time was had by all in spite of the sweltering hot temperatures that day!  Pittsburgh ICE is an NHL "Hockey is for Everyone"™ program, committed to offering children of all socio-economic backgrounds the opportunity to learn to play the game of ice hockey.
Supporting all of our community partners like our military veterans and the LGBTQ+ community; supporting the education of our youth; and supporting the ideal of equality among us – that's what the past week was all about for the Penguins Foundation!
If you would like to learn more about any of the organizations mentioned above, visit:
Tigers:                 https://www.pittsburghgayhockey.net/
Warriors:            https://www.pittsburghwarriors.org/