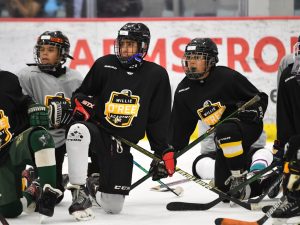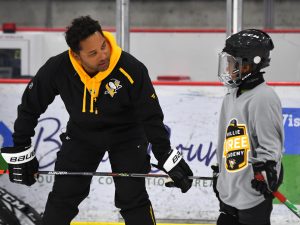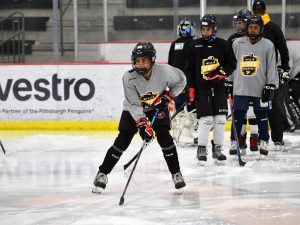 By Cindy Himes
The Pittsburgh Penguins and Penguins Foundation joined presenting sponsor DICK's Sporting Goods to open the doors to the first-of-its-kind Willie O'Ree Academy on June 15 at the UPMC Lemieux Sports Complex in Cranberry.
The Academy was created to provide unique training, social and mentorship opportunities for Black youth hockey players across our region, ages 9-17.
The Academy is named in honor of Willie O'Ree, who broke the race barrier in the NHL as the league's first Black player in 1957 with the Boston Bruins.  A testament to his talent and fortitude, he played his first NHL games in a 6-team league when only the very best made it to the big league.
Since 1988, O'Ree has worked as an Ambassador for the NHL's Youth Diversity Program.  During the Willie O'Ree Academy's opening session, participants were welcomed to the program via a taped message from O'Ree.
Twenty-nine youth enrolled for the Academy's inaugural year that will meet one night per week for nine weeks during the summer months.  Each week will consist of one on-ice session and one off-ice session.
In addition, after the 9-week course is completed, participants will meet once a month for a variety of educational programming and social activities that will include Penguins home games and meetings featuring special guest speakers.
Former Penguins defenseman Trevor Daley contributed to the creation of the Academy and its mission; and, led the group through both on and off-ice sessions during the first gathering.  A 16-year NHL veteran, Daley was a member of the Penguins' championship teams in 2016 and 2017 and currently serves as the team's hockey operations advisor.
The Willie O'Ree Academy's first day proved to be a huge success – and it will only get better as the program progresses to create unique growth opportunities for all involved.