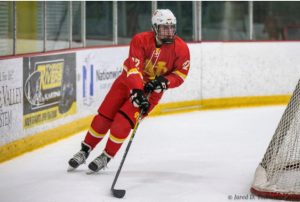 The Pittsburgh Penguins Alumni Association awarded its 17TH annual scholarship to North Catholic High School graduate Tyler Pontello.  The scholarship, valued at $2,000, is co-sponsored by the NHL Alumni Association.
The Alumni scholarship program was created in 2005 and is presented annually to a western Pennsylvania high school senior for academic excellence and for providing leadership, sportsmanship and a positive attitude as a member of their school's hockey program.  Students must have a minimum grade point average of 3.2 to qualify for the scholarship.
Pontello played defense for North Catholic High School's varsity ice hockey team.  During his senior year, he recorded five points in 17 games; but, opposed to his statistics, was better known for the leadership he provided to his team, especially to the younger players who were adjusting to high school hockey.  He was also a member of the North Catholic Varsity Baseball team.
He excelled academically and was a member of the 2021 High Honor Roll.  He was honored with the Senior Spotlight Award in December 2020 and was Student Ambassador/Scholar all four years at North Catholic.
Pontello was an active member of his community, serving as an altar server and volunteering at fish fries and special events at St. James Church.  He also volunteered at the Light of Life Mission and Holy Family Manor, a local senior living facility.  In keeping with his hockey background, Pontello volunteered for the Little Penguins program, assisting coaches with on-ice drills at the UPMC Lemieux Sports Complex.
In addition to academics, athletics and community service, Pontello also held seasonal part-time jobs serving as a USA Hockey Referee in the winter and working with a home contracting company in the summer.
He is the son of Rich and Kristen Pontello of Sewickley, PA.  He currently attends Duquesne University's Palumbo-Donahue School of Business where he will continue his hockey career playing ACHA hockey for Duquesne.