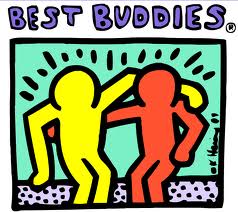 By Cindy Himes
This week, the Pittsburgh Penguins Foundation is proud to feature Best Buddies in our community partner blog!
Best Buddies International is a groundbreaking nonprofit that creates opportunities for one-to-one friendships, integrated employment, leadership development and inclusive living for people with intellectual and developmental disabilities (IDD).
Recently on May 22, Best Buddies hosted its Friendship Walk (virtual this year), the leading walk in the country that supports inclusion for people with IDD.  The Walk has become a catalyst in fueling the mission of Best Buddies through community engagement, visibility, dollars raised and volunteer recruitment.
Most importantly, Best Buddies promotes educating, empowering and instilling a culture of inclusion in our community.
This year, the Friendship Walk raised $147,000 and registered 1,030 walkers.  Funds raised at the event will go directly back into Best Buddies chapters across the state and to open new school friendship chapters.
Join the Penguins Foundation by supporting Best Buddies next event virtually on November 19 – the Best Buddies Champion of the Year fundraiser!  Champion of the Year annually unites and recognizes the community's most active leaders in the name of inclusion. By devoting their passion, talents, and networks to Best Buddies through a philanthropic competition, Champions lay the foundation for transformative change in our community.
Individuals with disabilities have been profoundly impacted by the effects of the pandemic. Cut off from school and community relationships, people with IDD are particularly vulnerable to the emotional and logistical difficulties of social isolation and are often overlooked during times of public emergency.
Never before has the need for Best Buddies mission been so great. That is why it is so important that we do not miss this opportunity to raise funds and awareness for Best Buddies so that their programs can continue.
For more information, please visit www.bestbuddies.org or connect on Facebook, Instagram or Twitter.