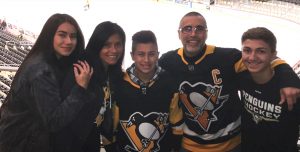 By Cindy Himes
At the Penguins Foundation, I have experienced countless moments that tug at your heart strings – moments in time that stay with you long after the moment has passed.
Watching a child's face light up when meeting one of our players; the look of empowerment after a child takes his first skate without falling; a senior's words of appreciation after receiving his holiday shoebox gift; or the excitement of a family sharing a Penguins game in a suite after months of rigorous therapy treatments – the smiles and tears of appreciation certainly make a lasting impression.
And I would like to share just one of those stories with you today – a story about a 14-year old boy named Elias.
Elias is a patient at St. Jude Children's Research Hospital, one of the Penguins Foundation's valued charity partners.  He was treated at St. Jude in Memphis, TN but was able to come home to Pittsburgh to continue his treatments at the UPMC Children's Hospital of Pittsburgh while St. Jude continued to cover the cost of his treatment.  During his hospitalization, he underwent daily radiation and chemo treatments.
His illness and daily treatments took a paramount toll on both the young boy and his family.  So, a pre-COVID night out at a Penguins game was the perfect remedy to their daily routine.  And their smiles and laughter while enjoying the excitement of Penguins hockey truly warmed one's heart.
With the unwavering support of his family and St. Jude, young Elias is still battling his illness; but, his courage and optimism at such a young age inspires us all.
Join the Penguins Foundation in Supporting St. Jude …
During these challenging times, cancer doesn't stop; but, neither do dedicated St. Jude supporters.  They remain ever committed to the promise they have made to the thousands of families who depend on them.
This year, the Pittsburgh St. Jude Gala is joining other St. Jude events in cities across the country for the first-ever Together as One for St. Jude trivia event on May 19, 2021.  For more information, to purchase tickets or to make a donation, please visit www.stjude.org/pittsburghgala.