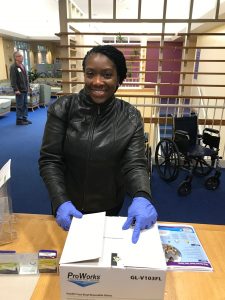 Tracey McCants Lewis, Penguins Deputy General Counsel and Director of HR, drops off a glove donation to The Children's Institute of Pittsburgh's main campus in Squirrel Hill.
By Cindy Himes
Even during a global pandemic, our mission at the Penguins Foundation to be the champions of youth in our community never takes a break. Through the power of hockey, we continue to fight for the wellness of our littlest fans, while uplifting and uniting our communities.
Amazing organizations like The Children's Institute of Pittsburgh have joined these efforts with an unwavering commitment to provide essential services to more than 6,000 children across our region.
Our friends at The Children's Institute have provided a wide array of services to children and families since 1902. From the earliest days of the pandemic, their team ensured continued access to care that included a mix of in-person therapies and expanded telehealth services.
"To stay safe at home, much of the world came to a pause, but we knew taking a break wasn't an option for us," said Dr. Wendy Pardee, President and CEO at The Children's Institute of Pittsburgh. "We needed to quickly innovate how we support our families and ensure that kids keep progressing."
When access to personal protective equipment (PPE) became a challenge, the Penguins hand delivered boxes of much-needed medical gloves to team members at The Children's Institute who provide direct services to families.
"We remain a lifeline through our amazing services," said Abby Pittinaro, community giving manager at The Children's Institute. "We couldn't do all we do; however, without the support of our community. This donation – as well as the incredible support we've received from the Penguins over the years for our kids and families, has meant so much. We're grateful that hockey could bring us together to bring joy and care to the families we serve."
To join the Penguins and the Penguins Foundation in giving back to The Children's Institute, please consider a donation to their Amazing Kids Fund at www.amazingkids.org/giving.