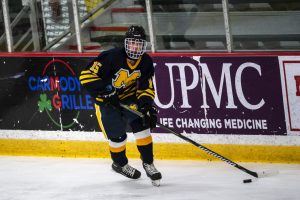 The Pittsburgh Penguins Foundation awarded the 2021 Bob Johnson Memorial Scholarship to Mars Area High School graduate Jared Kolarcik-Schmitt.  The scholarship, valued at $5,000, is co-sponsored by the Pittsburgh Penguins Booster Club.
The Johnson scholarship was created in 1992 and is presented annually to a western Pennsylvania high school senior for academic excellence, community service and for providing leadership, sportsmanship and a positive attitude as a member of their school's hockey program.  Students must have a minimum grade point average of 3.2 to qualify for the scholarship.
Kolarcik-Schmitt, who attends the University of Pittsburgh, played defense for the Mars varsity team.  A defensive defenseman, he typically played against their opponent's top lines.  He tallied one goal and two assists in 48 games.  In addition to hockey, he also played varsity golf and lacrosse.
He was honored with the Mars Hockey Club Wilson Award, an award chosen by the coaches that recognizes a player who demonstrates sportsmanship, has low penalty minutes, is a team player and plays to the best of his ability.  It is named after the founders of the Mars Hockey Club – Ruth and Jay Wilson.
Along with his success in high school hockey, Kolarcik-Schmitt excelled academically.  He was a member of the National Honor Society, Future Business Leaders of America and the National Spanish Honor Society.  He was also honored with the AP Honors Award, Mars Hockey Academic Excellence Award (2021), PIHL Academic Excellence Award (2019, 2020, 2021), a 2021 PIHL Scholarship, and was a Mars Area High School High Honors Student (2018, 2019, 2020, 2021).
Active in his community throughout his high school career, Kolarcik-Schmitt created the "Ice ALS" Charity Event, a charity hockey game benefitting the ALS Association, Western PA Chapter.  He also served as a counselor at KidsFest, a Christian summer program for children in grades 1-6; led organizing efforts for the annual "Play for the Brave Night" that was hosted by his varsity lacrosse team to benefit the It's About the Warrior Foundation; and volunteered as a skating instructor for children at the Lemieux UPMC Sports Complex.
For years, he has volunteered in a variety of capacities with the ALS Association and served as an advocate, traveling to Harrisburg to lead advocacy efforts in support of state-level legislation and funding for the ALS community.  He has also advocated for federal support of ALS-focused legislation and funding from the National Institutes of Health and Department of Defense in Washington, DC.
He is the son of Christi Kolarcik and Joseph Schmitt and older brother to siblings Reanna, Layla, Barrett and Emmett of Mars, PA.  He attends the University of Pittsburgh where he is pursuing a dual degree in biomedical engineering through the Honors College.