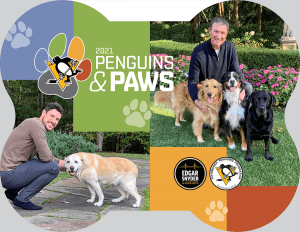 By Cindy Himes
The main focus of the Penguins Foundation is to serve and support the youth in our region; but once a year, the Foundation reaches out beyond its main focus to score a huge assist for man's best friend!
Each season, the Penguins & Paws charity pet calendar benefits a local animal shelter to support its life-saving mission of eliminating the homeless animal population in our region.  Over the past two years, the calendar has benefitted the Animal Friends campus in the North Hills of Pittsburgh and has been sponsored by Penguins corporate partner Edgar Snyder & Associates.
This season, the 2021 calendar grossed over $64,000 for Animal Friends.
For more than 75 years, Animal Friends has been impacting the lives of pets and people in our area and has worked diligently toward making our community a safer and more humane place.
A very popular charity initiative among Penguins' players, team wives and girlfriends; the Penguins & Paws calendar has generated tens of thousands of dollars over the years to help our furry friends.
First created in the early 1990s, its popularity has grown each year with fans across North America.  In fact, the project had become so popular across the NHL that at least one third of all NHL teams now publish a charity pet calendar with player photos to benefit their local shelters.
For the price of one Penguins & Paws calendar, Animal Friends can provide 80 meals to hungry pets through their Chow Wagon Pet Food Bank; shelter and care for a homeless animal for one day; provide antibiotics for an animal being treated for an infection; or provide a lifesaving vaccine for a pet whose owner is struggling to make ends meet.
The calendar is a unique publication that offers fans a glimpse of the Penguins team away from the rink and features photos of the team with their own family pets.  In past years, the calendar typically featured the players with adoptable animals from the shelter; but due to pandemic restrictions, fans were instead treated to the team's personal photography!
To learn more about Animal Friends, visit thinkingoutsidethecage.org.