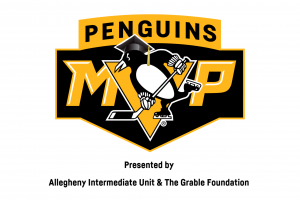 By Cindy Himes
Last week, the Penguins Foundation was proud to join forces with the Allegheny Intermediate Unit (AIU) and The Grable Foundation to honor 16 Allegheny County school principals for going above & beyond for their students and communities over the past year.
The Penguins Most Valuable Principal (MVP) program, created this season, proved to be a resounding success with a total of 1,355 nominations submitted in support of 137 unique school principals from elementary, middle, high school, charter, career/technical and alternative schools in our area.
A wide variety of nominations were received from parents, students, colleagues, peers and supervisors; celebrating their nominees for steady leadership throughout the pandemic.
"There are close to 600 principals in Allegheny County and those principals are on the front lines," stated AIU Assistant Executive Director Rosanne Javorsky.  "They deal with students, parents, teachers, staff and supervisors.  During the pandemic, the role of the principal took on even more critical importance."
Among their attributes, principals were lauded for making home visits to students and staff, providing emotional support, creating YouTube channels for better communications, motivating staff, reading books to students, and leveraging community partnerships to bring needed services to children and their families.
The MVP pilot program is geared toward recognizing the difficult and unprecedented times our local school systems had to endure amidst the COVID-19 pandemic and to honor principals who demonstrated an innovative approach to learning, a continuous strive for excellence and a passion for their school and students.
Congratulations to the 2020.21 Most Valuable Principal (MVP) winners:
Adam Zunic & Justin Libratore, Gill Hall Elementary @ West Jefferson Hills
Kristina Bilderback, Highcliff Elementary @ North Hills
Dave Thomas, Fred L. Aiken Elementary @ Keystone Oaks
Erin Crimone, NA CyberAcademy @ North Allegheny
Kristin Brown, Penn Hills Elementary @ Penn Hills
Kenneth Klase, St. Louise de Marillac @ Diocese of Pittsburgh
Kevin Walsh, Barrett Elementary @ Steel Valley
Debra Maurizio, Clairton Elementary @ Clairton
Patti Camper, Arsenal 6-8 @ Pittsburgh Public Schools
Sean Gildea, Logan Elementary @ East Allegheny
Heather Johnston, Sto-Rox Upper Elementary @ Sto-Rox
Jason Ramsey, Foster Elementary @ Mt. Lebanon
Patricia Fusco, Harrison Education Center @ Baldwin Whitehall
Molly O'Malley-Argueta, Allegheny Traditional Academy K-5 @ Pittsburgh Public Schools
Phillip Woods, Woodland Hills High School @ Woodland Hills
Each winning principal will receive a $1,000 donation for a school project of their choosing, and a Penguins prize pack that includes a personalized team jersey.
The Pittsburgh Penguins, Penguins Foundation, The Grable Foundation and the Allegheny Intermediate Unit are honored to recognize the MVP winners and all nominees for their outstanding service and dedication!