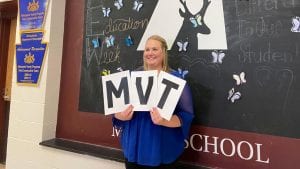 Megan Campedel, a Penguins fan who teaches eighth-grade science at Avonworth Middle School, is one of three finalists competing to become the NHL and NHLPA's Future Goals Most Valuable Teacher of the Year.
Penguins fans can vote for Campedel at NHL.com/MVT. Fans can show their support by casting one vote per day through Friday, May 8.
"The support far and wide across Pittsburgh has just been amazing," Campedel said. "I'm a cheerleading coach, a figure skating coach and, of course, a teacher. And in all of the facets of my life, I couldn't believe how many people came out to support me and how many people shared the link and texted me, 'I'm voting for you every day.'
"It was just so overwhelming to see how many people were there to support me, even people that I hadn't spoken to in a long time. It was just so wonderful that they valued me as a teacher and a coach."
Campedel was one of 12 individuals nominated when the Most Valuable Teacher program launched at the 2020 Bridgestone NHL Winter Classic. She was voted the Most Valuable Teacher of the Month for January after using the Future Goals program to demonstrate how science affects hockey.
Over the course of three months from January to March, a total of 36 teachers across the U.S. and Canada competed to become the Future Goals Most Valuable Teacher of the Month. After thousands of votes, the three monthly winners – including Campedel – are now competing to be named the Most Valuable Teacher of the Year.
The Future Goals program partners with Everfi, a critical skills education platform, to teach skills with a STEM (Science, Technology, Engineering, Mathematics) sports curriculum – called Hockey Scholar – to help prepare students for success in life. Using hockey as a STEM learning vehicle, the Hockey Scholar program helps students understand the real-world applications of science and math principles.