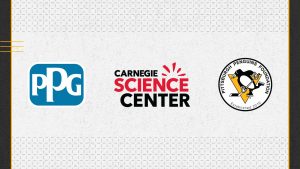 By Cindy Himes
Imagine being a young hockey fan and utilizing that love of sport to learn about the physics, geometry, physiology and materials behind the exciting game of hockey.  Sound like the best of both worlds – enjoying the sport and using it to learn and understand science?  It certainly is!
The Pittsburgh Penguins Foundation teamed up with corporate partner PPG and the Carnegie Science Center to develop the latest school assembly show from Carnegie Science Center's Science on the Road outreach program.
This unique virtual program invites students to take a ragtag team of hockey players all the way to the Stanley Cup by learning about reaction time, cryogenic chemistry, forces of motion and more through dynamic science and math demonstrations.
The program is geared toward students in grades K-8 and includes several live demonstrations led by a Science on the Road educator.  Penguins Director of Youth Hockey Shannon Webster and team mascot Iceburgh both appear in pre-recorded video segments demonstrating how science and the sport of hockey intersect.
Schools, libraries, and organizations are now able to book the Science of Hockey virtual program or make a reservation to bring the assembly to their location this fall.  For more information on booking this innovative Science of Hockey program, visit CarnegieScienceCenter.org/SOR.